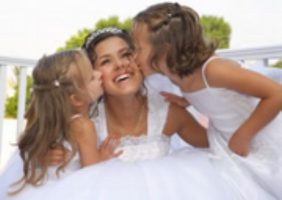 Are you planning your big day? Booking out a hotel venue — where everything is set, ready for the big day, and your guests full of plans for the weekend away to enjoy your magical moment… Or are you heading to a wedding as a guest this summer season.
Both situations fill you with excitement! However come the actual big day, if you have young children or a toddler and baby in arms or either one of the situations… it can be an absolute marathon of a day to get through and in high heels and a posh dress!
The children can be over-excited, want to do anything and everything but conform to the days rules, photo engagements and strict schedule. They can get irritable, tired and hungry as the meal times are often not at the times little tummies start to grumble.
Cue the Hotel Nanny! We come and make the day seamless. Our Wedding Nanny works as one private nanny per family. Your Wedding Nanny introduces herself to your family at approximately 11am. She can scoop the children up as you finish getting ready. Then the rest of the day you know you can fully enjoy your friend or family's big day! At the end of the day your Nanny retires to your room to start the slow-down and begin dinner and bath time. Your little ones will be ready to say goodnight to you after a busy day within a busy event — you will kiss your little one night night and the nanny will get her bedtime stories ready, just in time as the champagne starts to flow freely and the music starts to heat up for the evening ahead. The Hotel Nanny puts your pleasure and enjoyment at No.1 and takes the stress away.
Also we can be a solution to that hot topic of a "no children" wedding. If this is causing family arguments or an unpleasant response from loved ones, allow your guests to bring their children and let the Hotel Nanny keep the little ones entertained well away from the wedding celebrations. No children in sight yet the parents can return to their little angels at the end of the day. A perfect day for everyone.
We are, as they say: practically perfect in every way!
https://thehotelnanny.co.uk/wedding/