FAQs General
We have your questions answered just here
Are the nannies qualified?
Yes, all our nannies are qualified.  View all our nannies here
I want to book The Hotel Nanny but I want the office to take care of everything for me. How can that happen?
Our system is designed so that you can do almost exactly that! You simply add your details and family information and that is it – sit back and relax – and within a blink of an eye we are able to match you to a fabulous nanny team member. You then click accept and pay and your confirmation falls in to your inbox seamlessly. All done, nanny booked!
My plans have changed so I need to change my dates/times for the nanny care, do I contact the office or my nanny directly?
You will have your confirmed nanny's preferred mode of contact. Therefore for any alterations to your plans or you are simply running late – please do get in touch directly with your nanny so she is up to speed and can harmonise with your new timings. This will be your first point, to always reach out to your nanny for any minor change of plan.
Remember if you are changing your booking dates entirely your existing nanny may very well be booked elsewhere for your altered time frame. If this is the case you will then need to begin your search again for your new dates. Don't worry, get in touch with the office and we allow you one free entry to go back in to our system if this is the case, if it is 24 hours ahead of your new booking time frame – this will be offered completely free of charge – to help secure you a new nanny for your new date. This is of course dependent on availability.
This does not apply to a last minute cancellation and attempt to change the date within 24 hours' notice. Any change of dates less than 24 hours before will mean your reservation fee is non-refundable and a cancellation fee of £25 will need to be paid to the nann
I need to cancel my nanny care, what happens?
No problem, any cancellation needs to be within 24 hours. Just as above your nanny contact details were sent with your confirmation and please inform your nanny directly of the change. If you cannot successfully secure a changed date, let us know in the office and we will give you a complimentary entrance in to the system for you to be matched with another great nanny, availability depending. If it is not within a 24 hour time frame and it is less than the 24 hour notice period we do require that the nanny time is respected and that a cancellation fee of £25 is paid in full as the nanny has usually lost that date to work, please contact your nanny directly for this to be processed.
I have a nanny booking for the whole day, can the nanny take my children out and about?
Absolutely! We relish the chance to go out sightseeing with your child/children or to the park to get some fresh air and feed the ducks. In London there is a plethora of things to do and all of our nannies know well the choices that will meet your children's interests, whether it's a morning on the Big Red Bus or a trip to the Museum, Castle Dungeons or maybe even Harry Potter studios? It's all possible! This will be something you can organise directly with your nanny. However, do be aware all entrance fees, travel fees and so on needs to be covered.
Your nanny will also give you a form to fill in showing your agreement to go off site from the hotel and to sign the emergency contact form, just so we have dotted the I's and crossed those Ts!
So the nanny does not need to stay in the hotel?
Goodness no, you are booking your nanny to follow your wishes, whether that be to be quiet and play in the hotel, follow a nap time or bedtime routine or to go out exploring! Its totally up to you. We find with our country hotels, there is usually lots to be done and explored around the hotels grounds or to enjoy the pool. However in the bigger cities like London, we understand you may want to take the chance to explore the city. All must be pre-arranged with the nanny and you must write and sign a 'leaving the hotel' notice found on the T&Cs page
I want an option to help me book and organise The Air Nanny service, so this can all be arranged for me but the site is not allowing this option? How can I get someone to do this for me?
Due to air travel being quite complex in terms of personal requirements, hours, layovers, documents, visas and so on, this needs to be directly discussed and worked out with your chosen individual nanny. We are simply your introductory agent and we leave the rest to you when we have successfully matched you with one of our team.  To do this, you will need to enter your details in to the booking request form and the office will help hand pick a nanny which correspond with your dates and times. We find this 1:1 correspondence far more efficient and conducive to discuss the finer details of your trip. We promise this is a far better way to approach the booking for your Air Nanny introduction.
I want The Hotel Nanny service now and The Air Nanny Service next month, is that possible?
That's perfect, and we are delighted to be of service! These services are very different though, so simply choose your one time Hotel Nanny package to cover your hotel stay away and then for The Air Nanny you will need to enter in your details and enter the search and introduction via this specific page. We have the basic one time entrance fee for The Hotel Nanny, we then have the introduction fee for The Air Nanny service, which is far more complex to arrange and needs to be a standalone request package.
We booked for 4 hours with our nanny but if we are having a great time can we extend the nanny care?
Absolutely! This is The Hotel Nanny motto, to enjoy 'the quality of together time' We know it's hard to come by so YES, if you are having fun and a great time, please feel free to extend it as long as you have told your nanny ahead of time to give her the heads up and keep in touch through the booking on your mobile phone.
I notice there is a limited amount of nannies on each location page, I was expecting pages and pages of nannies to choose from, why is that?
This has been done for a very specific reason. We pride ourselves on our tight knit nanny team, who understands The Hotel Nanny ethos and excellence for care and concentration for detail. Our tight knit nanny pool is part of The Hotel Nanny community, we extend our team with the demands and peaks and troughs of the industry.  Many of the team have been working with us for many years and this creates a very special working relationship. We build our reputation on excellence of care and excellence of service, bespoke and luxury and so there is no better way to achieve this but investing in to deliver a brilliant nanny team. That's why we are so fully booked and that clients book us far in advance as they know to have someone of excellence work with their family they have to plan ahead.
I can see there are 3 membership plans to choose from, can you explain the difference for me?
You have the following services available:
The basic one-time entry membership to find a Hotel Nanny for your one off hotel visit. You will put your details in to the database and you will quickly receive an alert to say we have either matched you with one of our fabulous nannies or that we are fully booked. Once we have matched you with a nanny you will then be asked to go to the checkout to pay your fee and then the nanny confirmation will be sent to you with your nanny details. If we are fully booked we will ask you to adjust your dates and times.
The silver membership is also The Hotel Nanny service and works like the above, but the difference here is, where you can come on to our portal and have exclusive entry up to four visits over 12 months – this is very popular! The platinum service is for The Hotel Nanny portal and library for unlimited use over a 12 month duration.
The most premium service is The Air Nanny and this is a one-time fee where the office takes you through the first initial steps of your booking requests and once availability has successfully been matched, the office will then introduce you to your Air Nanny and the fee will be taken. After that the nanny is all yours to follow up and discuss in greater detail the air travel, your children and all the necessary documents and details to be discussed to ensure a safe a professional trip.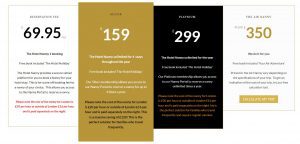 I see that we pay a one-time entrance fee in to this amazing service, can you explain and how do we pay the nanny for our nanny care?
The one time membership fee is essentially allowing you to unlock yourself to a world of incredible nannies, and be introduced to a highly professional team steeped in childcare and nanny care experience. You truly have the best here at your fingertips, and a team who are well experienced with nanny care specifically in hotels and for the travelling clients. We work hard to source and thoroughly vet the nanny team in which we proudly bring to you here on the site for your enjoyment.
Then you pay the nanny directly for the nanny service, this is £20 per hour for London and £16 per hour outside of London. There is a minimum 4 hour booking fee for time regardless if you take less. This is paid totally directly with your nanny who will have a card reader so it will make payment at the end of your booking seamless and you don't have to be digging around for cash!
Frequently Asked Questions The Hotel Nanny
We have your questions answered just here
Do I have the same nanny if I book a number of days or evenings?
What does the nanny do with the children?
What does the nanny do with the children?
How many children will the nanny look after?
Does the nanny bring anything to the hotel?
Do I get any formal summary from the nanny after the booking?
Frequently Asked Questions The Air Nanny
We have your questions answered just here
I have had a look round the website, it looks great! But when I try to enter the nanny page to choose my nanny, it's asking me for my membership choice, what does this mean?
Yes that's right, you can either choose 'Do It Yourself' which means you go in to the portal, pay your one time membership fee to get in and enjoy looking through all the nanny profiles connected to your city/hotel destination. Where you see matching availability reach out, connect and get your nanny care booked up! There is also a membership option where 'We Do It For You' this is the concierge option and this means the office is here to get everything wrapped up for you and you don't have to think about a thing.
I have entered the nanny portal and I can see that all the nannies are booked for the date I want, what do I do?
We are sorry to hear that and as we said, our nannies are highly sort after, we are not the service to rely on if it's a last minute booking, this is stated in our T&Cs and at the top of the page as you enter the portal. Is it possible to nudge your booking date, for example if your hotel stay was Saturday night, could you change it to Friday night and would this link in with your required nanny care and our availability? It is worth connecting with a nanny you like, and asking just to be sure as she may have had the family for that date recently cancel due to plans changing. It's always worth asking!